The 52 Week Domestic Violence Program is a state of California and Riverside Probation approved intervention program designed to help men who have abused their significant other or ex. This program is for offenders only. The goal of the program is to stop intimate violence with hope of preserving families and relationships.
Novell & Novell Counseling Services is a state of California approved program certified by the Riverside County Probation Department to provide court mandated Domestic Violence Programs.
Our Domestic Violence Program is facilitated by:
Robert Novell, Educational Director-Lead Instructor
Mr. Ben Novell is the Administrator of the program.
Each class meets weekly for two hours in the evening (hours vary) and can be joined at any time.
(Currently classes are held on Monday and Wednesday evening – please contact the office for details)
NOTE: An orientation process MUST be conducted prior to enrollment of our court ordered programs. Please contact our office to schedule an orientation. We recommend having your referral and or court order on hand when contacting the office.
FEES:
Orientation Fee: The orientation fee is due prior to scheduling your orientation appointment.  The fee for court order cases is $50.
Class Fee:  Riverside County Probation Department has set the fee at $60 per session, but can be reduced on a sliding scale.  Often reducing the fee by 50% or more.
During the course of the Domestic Violence Program, quarterly status/progress reports will be issued and provided to the designated official assigned to your case, upon your signed written consent.
It is important to be aware different people call this program by different names, including but not limited to:
Domestic Violence Course
Batterer's Treatment Program
Batterer's Intervention and Prevention Program
52 Week Domestic Violence Program
Anger Management
Voluntary Enrollment: If you have not been ordered, and have an interest in attending the Domestic Violence Program please contact the office to schedule a meeting with Ben Novell, MS, LMFT, LPCC.  Mr. Novell will assess if the group setting would be suitable for the issue or concern that you wish to address. Non-Court ordered intake assessments are longer in duration to assure the client is appropriate for the group best served.  The fee for this assessment is $180 and will be 50 minutes in length.  Recommendations for the appropriate interventions will be discussed.  If appropriate for the Domestic Violence Program no additional fees are charged to enroll in the program.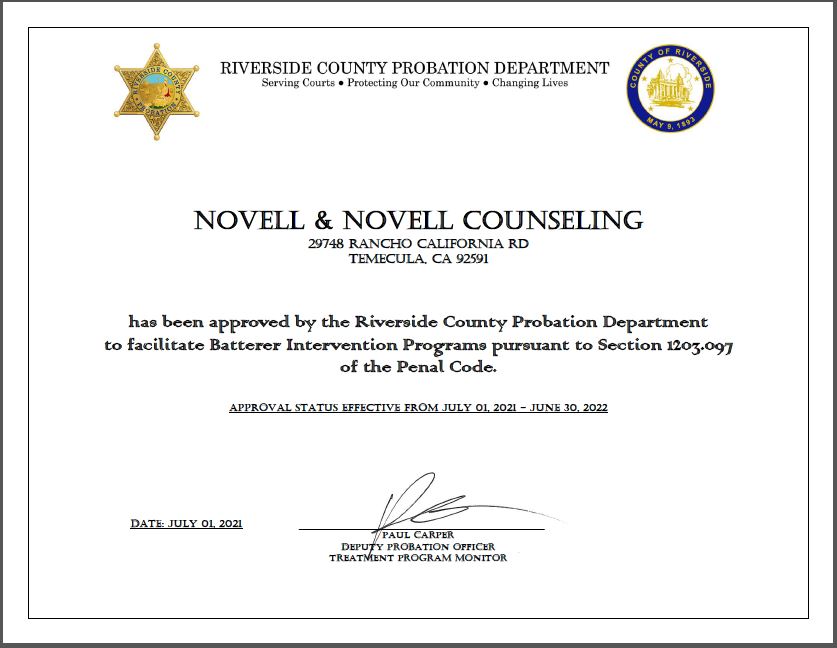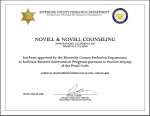 Please contact our office at 951-252-9911 if you have any questions regarding our Domestic Violence Program or want to inquire about a program that is not listed above. Our representatives will be glad to assist you.