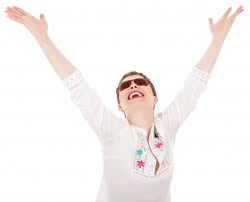 What does it take to be happy?  How we define happiness is as individual as the over 7 billion people on the planet.  But we were intrigued by the recent research and the article by Dan Buettner, Give Yourself a Happiness Makeover, we found in the recent issue of  AARP Magazine.Dan's research found 10 steps to a more happy life we want to share with you:
Nestle in the Right Neighborhood…Where one lives is an important determinant of happiness, or at least a sense of well being and belonging.  Our neighborhood and community help define our live.
Stop Shopping; Start Saving…The question is, how much stuff do we really need to be happy and fulfilled?  Saving for a rainy day or a retirement or that dream trip can significantly increase happiness.
Make the Most of Your Morning…Even if you're not a morning person, boost your energy by taking a short walk or simply doing something for yourself first thing in the morning so that you can face the day less stressed and more prepared.
Trim Your TV Time…We've heard this for years.  Turn off the tv and look around, be with friends and family and, yes, smell the flowers.
Get a Daily Dose of Friends…Our social circle of friends not only gives us a different perspective and keeps us honest, it's also healthy.
Find Your Soul Mate…A committed, long term relationship has been shown that those relationships lead to a happier life.
Meet, Pray, Love…Wow, research shows that people who belong to a faith-based community—regardless of religion—and attend services more than once a week live as many as 7 years longer! But regardless of religious belief, seeking  places that reflect a sense of wonder in the deeper questions of life, such as nature, can also be life extending.
Create a Sunny Sanctuary…By having a space that is uniquely yours you can increase contentment.
Gain Peace with a Pooch…Yes, pet owners have been found to have lower blood pressure.  That unconditional love from that wagging tail can put a smile on anyone's face after an especially challenging day.
Ignite Your Passion for Compassion…Giving feels good whether it's helping a neighbor, donating to a food bank, or contributing to a worthy cause.
There's no simple formula for happiness—and there are ups and downs on the road of life—but we do think the above points are a good start toward understanding what can help us all attain what we personally define as a more happy state. What's your happy state?
To schedule an appointment with Ben Novell, LMFT,  Janelle Novell, LMFT, RPT-S or any of our therapists, please call 951-252-9911