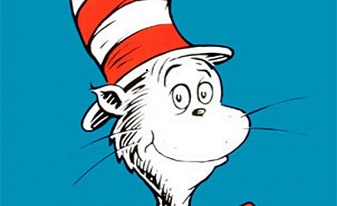 "I have heard there are troubles of more than one kind.  Some come from ahead and some come from behind.  But I've got a big bat.  I'm all ready you see.  Now my troubles are going to have trouble with me"           – Dr. Seuss
How often do you let your troubles get the best of you?  If you are like most people it happens quite often.  But troubles are only trouble if You let the be.  Most troubles really only exist in our heads.  How about giving your troubles some trouble of their own and let your mind take a well needed rest.
Theodore Seuss Geisel, or more commonly known as Dr. Seuss, was born in Springfield, MA on March 2, 1904. He dies in La Jolla, CA in September, 1991. He was an American writer, poet and cartoonist. He became best known for the 40 children's books that he both wrote and illustrated. Many of the books have been made into movies and have been studied in university classrooms.
Dr. Seuss quotes are simple and poignant. It has been said that if heeded they have the power to change the world.
Happy Birthday Dr. Seuss!
By: Janelle Novell, LMFT, RPT-S Marriage & Family Therapist / Registered Play Therapist
To schedule an appointment with Ben Novell, LMFT, LPCC, Janelle Novell, LMFT, RPT-S or any of our therapists, please call 951-252-9911. (Image from Google Images)