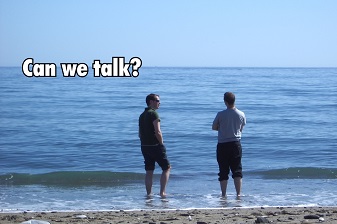 As a teenager, communicating effectively with your parents may be a challenging task to do.   You (as the teenager) want to be heard and responded to with respect.  But how do you accomplish that?
It's important to consider the roles/jobs of not only your parents, but yourself as well.  As a parent, their job is to protect, love, provide, to prepare you for the world, and so much more.  Your job as the teenager may consist of: to listen to your parents, go to school, help around the house (chores), love your parents, etc.
When communicating with your parents the goal is to be heard, understand your parents reasoning, and come up with a solution. (Caution: The result may or may not be in your favor.) *Remember, communication works both ways.  If the subject being discussed is uncomfortable for you, it may also be uncomfortable for your parents.
Here are some helpful tips on effective communication with your parents:
Rules of Engagement:
Question what you will be asking or telling your parents. Normally, we ask for permission if there is a 50/50 chance of a positive response. If you think there is a 90% chance they will respond negatively, perhaps you should reconsider asking.
Recognize that you have a job and your parents have a job and they are not the same job. (see above)  When communicating with your parents, recognize that the situation has two perspectives: yours and your parents. Look at the situation rationally. What you feel (Anger = socially, I'll miss out) needs to be reconciled with what they feel (Fear = there is not adequate safety in the situation).
Follow the personal responsibility statement. You have control over one person: Yourself. No one else. Your words, your behavior, and your responses to situations are a reflection of your character. Separate your behavior from others, own it and be proud when you communicate your wants or needs blamelessly.
Stay calm and rational. Talk to your parents like you are speaking with someone you respect.  How you say something is just as important as what you say. Avoid sarcasm and cussing. Avoid rolling your eyes, shrugging, sighing, and flipping them off. All of these escalate the situation.
Consider appropriate timing. Avoid confrontation when they are hungry, stressed, tired, in the middle of a task/call/etc. However, if the situation requires an answer during one (or more) of these times, an appropriate statement may consist of, "I know this may be terrible timing, but I need to ask you something…."
Change negative interaction style. You have the power! If every discussion turns into an argument, figure out when it turns sour and alteryour part of the "script." Change the lines from "you're just saying no because…" to "what are your concerns? Can we talk about them?" Ask for clarification when needed.
Make "I" statements and avoid "you" statements. Speak for yourself and not the other person. Say I feel and I think because it shows responsibility and provides insight into your side of the situation.
Avoid the words "always" and "never." Replace with sometimes, occasionally, or just don't make the statement.
Don't react, respond. Monitor your internal temperature throughout the discussion. 1-10: 1 is chill, 5 is annoyed, and 10 is explosive anger. You can still be angry and keep your head in the game – to a point. If you get to a 7 or 8, ask for a time out. You need to stay rational.
You'll win some and you'll lose some – it's life.If the result is "yes" express gratitude to them. If it is "no" say "I understand where you are coming from" or "thank you for listening." 
By: Karna Humbert, IMFT – Intern Marriage & Family Therapist – License Number: IMFT71543
Clinical Supervisor: Ben Novell, MS, LMFT, LPCC – Marriage & Family Therapist – License Number: LMFT25733 / LPCC859
To schedule an appointment with Ben Novell, MS, LMFT, LPCC,  Janelle Novell, LMFT, RPT-S or any of our therapists, please call 951-252-9911.
(Image from morguefile.com – Edited by Rofblot)