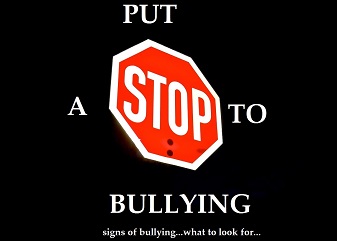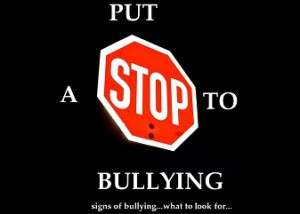 As a parent we are always worrying about the health of our children. We worry about their safety, education, and physical health. What we sometimes miss are the little innuendos in their moods and behaviors that can be from something more serious. Children, adolescents, and teens can have behavior and mood changes if they are being bullied by their peers.

We send our children to school, daycare, church, parties, with babysitters, playdates and many other places that we feel are safe environments. If we thought these places were unsafe, would we send them? Of course not.
Most of the time our intuition is correct and our children are safe. But sometimes there can be an opportunity for our children to be bullied.
Here is one scenario:
You drop your child off at school and go about your day. You have many things to do, it's Tuesday after all, not unlike any other Tuesday, filled with work, errands, and phone calls you have to make. After a long day, you pick up your child from after-school care and he is a bit quiet. You ask, "How was your day?" he replies, "Good". You know there is something off about your child, but think it's just that he's tired, or getting sick, or just doesn't want to talk about it. Over the next few weeks you notice a pattern of the same answers from him and he seems different, but he won't open up about anything bothering him.
What now?
The fact is that your child could be tired, or getting sick, or doesn't want to go to school because he wants to play at home, like on the weekends, or in the summer.
But sometimes, it could be more serious.
He is being bullied.
There are several mood and behavioral changes that you may notice.
Bullying can look different at different ages. The way children react at home can also differ according to their coping skills.
Some changes in your child's behavior can look like the following:
Unexplainable injuries
Lost or destroyed clothing, books, electronics, or jewelry
Frequent headaches or stomach aches, feeling sick or faking illness
Changes in eating habits, like suddenly skipping meals or binge eating. Kids may come home from school hungry because they did not eat lunch.
Difficulty sleeping or frequent nightmares
Declining grades, loss of interest in schoolwork, or not wanting to go to school
Sudden loss of friends or avoidance of social situations
Feelings of helplessness or decreased self esteem
Self-destructive behaviors such as running away from home, harming themselves, or talking about suicide (stopbullying, n.d.)
If you see any of these behaviors, it does not mean that your child is being bullied, but awareness that these can be signs of bullying is important as a parent or care giver to understand. Then you can begin to ask your child questions to help learn assertive communication skills to cope with a bully in any environment through childhood and adulthood.
We all want to protect our children. Our goal is to teach them to speak up and protect themselves. In the meantime, pay attention to any changes in your child's moods and behaviors
If you suspect that your child is being bullied, please visit stopbullying.gov for more information.Bullying. (n.d.) In StopBullying.gov.
By: Zsanna Marble, IMFT- Intern Marriage & Family Therapist – License Number: IMFT85253
Clinical Supervisor: Donna Lindley, LMFT – Marriage & Family Therapist – License Number: LMFT40143
To schedule an appointment with Ben Novell, MS, LMFT, LPCC, Janelle Novell, LMFT, RPT-S or any of our therapists, please call 951-252-9911. (Image from morguefile.com– Edited by Rofblot)
Resources:
Stopbullying.gov
800-273-8255