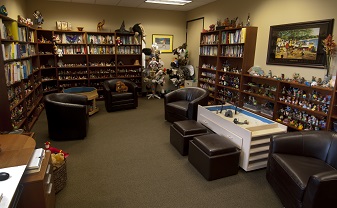 You may ask yourself what is play therapy and what can it do for my child?  Wikiedia has simply defined play therapy as the following: a form of counseling or psychotherapy that uses play to communicate with and help people, especially children, to prevent or resolve psychological challenges.  This is thought to help them towards better social integration, growth and development, emotional modulation, and trauma resolution.
Why is play therapy widely used with children as a therapeutic tool? There are many benefits to implementing play therapy in treatment with children ages 3-12.  Some benefits are, but not limited to: "play"  is known to be the child's language, play is also FUN and expands self-expression, play therapy also provides a safe place for emotional expression. (children learn to safely express their thoughts and feelings during play therapy) and play therapy fosters the child's imagination and creativity while supporting emotional healing and growth.
Who can provide play therapy?  Play is something that you may think everyone can do, can perform and or practice.  However, according to the Association for Play Therapy, the practice of play therapy actually requires an extensive specialized education, training, and experience.  A play therapist is a licensed mental health professional who has earned a Master's or Doctorate degree in a mental health field with considerable general clinical experience and supervision.  Mental health professionals may also earn the Registered Play Therapist (RPT) or Registered Play Therapist-Supervisor (RPT-S) credentials.
How do I find a RPT/RPT-S for my child?  The Association for Play Therapy has a directory you may access here. You may also contact the specific provider directly to inquire.  At this time, Novell & Novell has a RPT-S (registered play therapist supervisor), Mrs. Janelle Novell, as well as additional providers in our office who incorporate play in their therapy based on the needs of each child/individual.
For more information on Play Therapy click here OR to schedule an appointment with Janelle Novell, LMFT, RPT-S or any of our therapists, please call 951-252-9911.