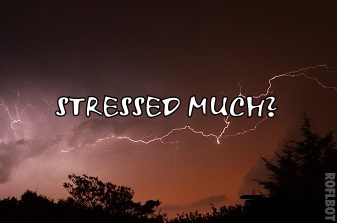 What is stress?  According to Merriam Webster, stress is a state of mental tension and worry caused by problems in life or work.
Some examples of causes to stress may include:
– Death of a loved one, friend, or family
– Being unhappy in your job, loss of a job, too much of a workload/responsibility or increased work hours
– A new job/career
– Divorce, separation, or break-up with significant other
– Getting married, a new relationship
– A new home
– Illness or injury
– Exams/Tests
As you can see in just from the short list we provided, stress can affect us in many ways.  Not all stress is bad stress.  Good stress is a response that can be helpful.  For example, stress associated with studying for that big exam or making preparations for a big event like a wedding can motivate us to take action.  However, with the good, there is also the bad.  Bad stress consists of an on-going or long term events in your life such as divorce, death of a loved one, bullying, etc.
You can recognize stress by understanding the triggers and stressors.  Triggers are events that can activate negative internal thoughts, which may cause you to suffer symptoms of stress, anxiety, depression, anger, panic, and fear.
Some triggers may include:
– Anniversary dates
– Work
– Legal problems
– Holidays
– Certain smells, tastes, and sounds
– Over extending yourself
– Lack of structure
– Loss
Recognizing as well as understanding the warning signs of stress is essential in reducing the symptoms and maintaining a healthy lifestyle.
Some warning signs may include:
– Increased anxiety
– Forgetfulness
– Restlessness
– Tearfulness
– Fatigue, headaches
– Irritability
– Change of appetite, sleep, or libido
When dealing with stress, it's important to know your triggers and stressors, understand your warning signs, and you should also do the necessary daily activities which will help keep you healthy both physically and mentally.
Some activities may include:
– Eat 3 healthy meals
– Get quality of sleep
– Think about positive things
– Do relaxation exercises
– Set goals, make a to-do list
– Get support from others
– Journal
– Talk to someone
By: Matthew Cipolla, IMFT- Intern Marriage & Family Therapist – License Number: IMFT85538
Clinical Supervisor: Ben Novell, MS, LMFT, LPCC – Marriage & Family Therapist – License Number: LMFT25733 / LPCC859
To schedule an appointment with Ben Novell, MS, LMFT, LPCC,  Janelle Novell, LMFT, RPT-S or any of our therapists, please call 951-252-9911.
(Image from morguefile.com/Parel Gries Photo – Edited by Rofblot)
Sources:
TriCity Medical Center Behavioral Health Unit Wellness Workbook
Merriam Webster
myptsd.com